Description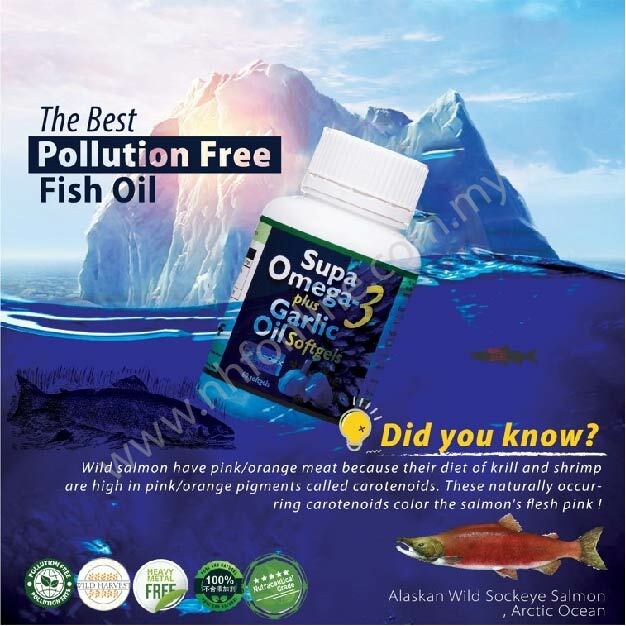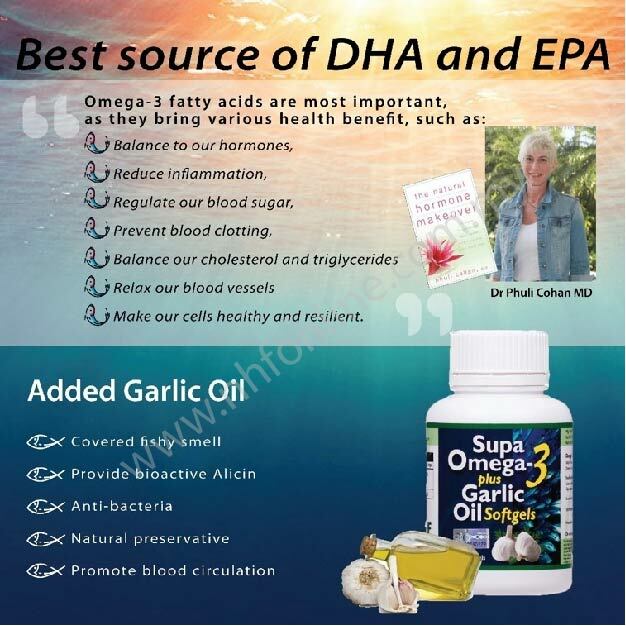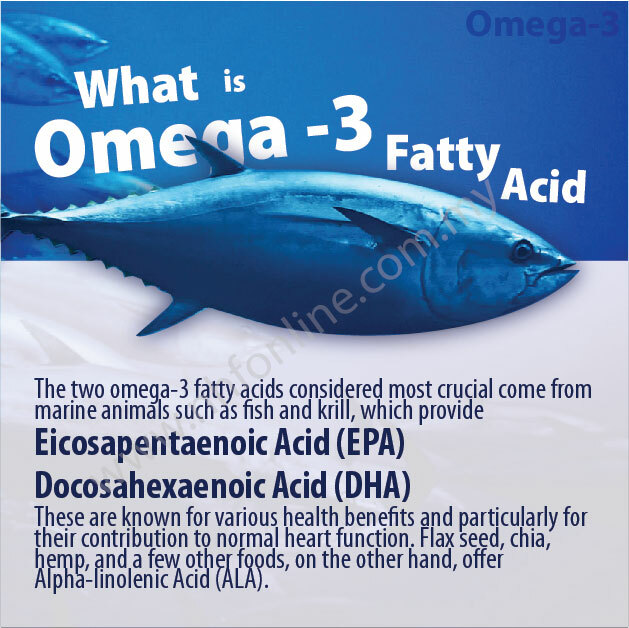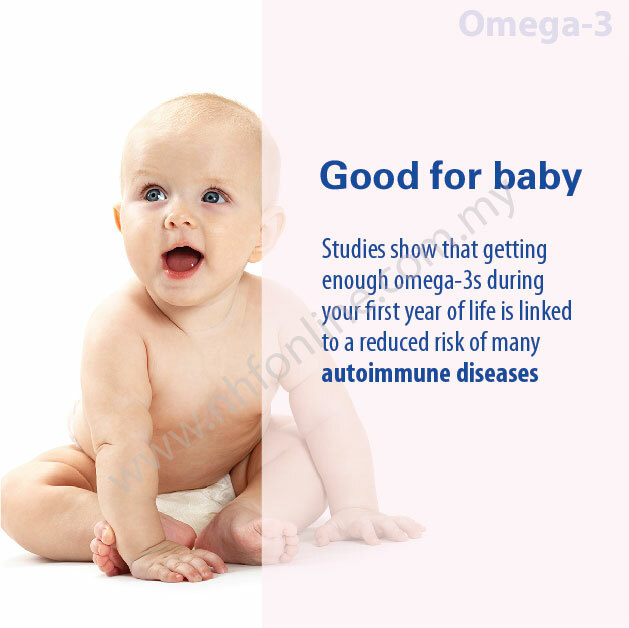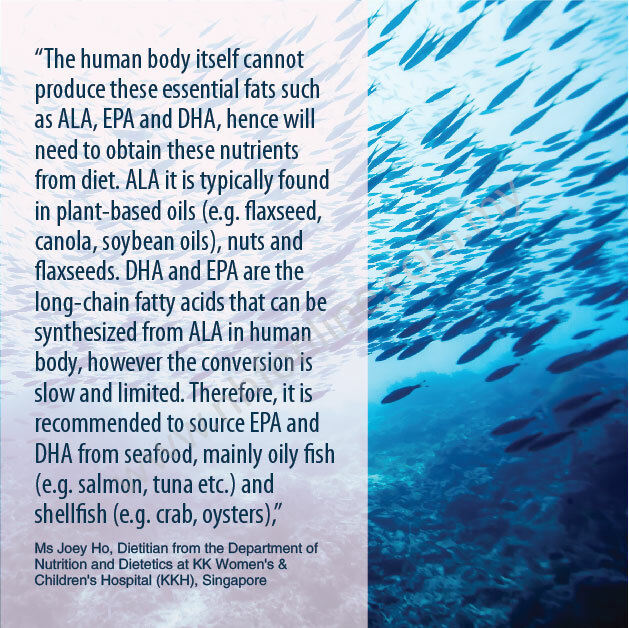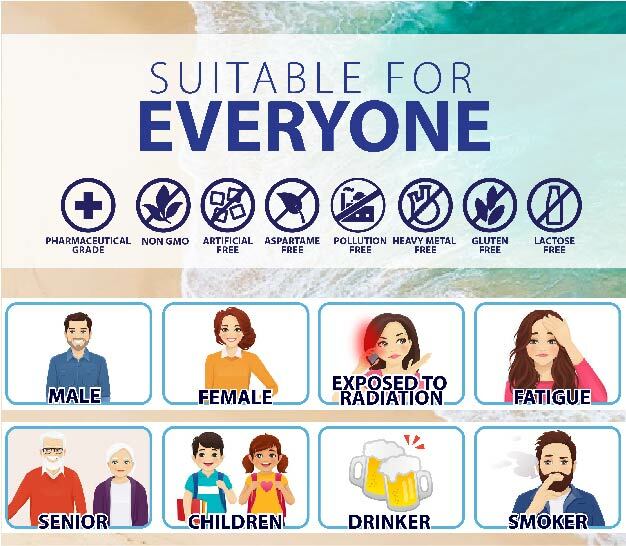 Omega 3 + Garlic Oil   
Lubricant for heart, brain, eye and joints

In the 1970s, scientists discovered that Eskimos in Greenland rarely suffered from heart disease, so they conducted in-depth research on fish oil, and the benefits of EPA and DHA were spread.

 
🌱General Health Benefits & Clinical Application / Medical Studies

Promote children's brain growth, prevent asthma
Newberry, Sydne J., et al. "Omega-3 Fatty Acids and Maternal and Child Health: An Updated Systematic Review." Evidence report/technology assessment 224 (2016): 1-826.

Improve ADHD children's hyperactivity tendency
Bos, Dienke J., et al. "Reduced symptoms of inattention after dietary omega-3 fatty acid supplementation in boys with and without attention deficit/hyperactivity disorder." Neuropsychopharmacology 40.10(2015): 2298-2306.

Prevent Asthma Attack
Brigham, Emily P., et al. "Omega-3 and omega-6 intake modifies asthma severity and response to indoor air pollution in children." American journal of respiratory and critical care medicine 199.12 (2019): 1478-1486.

Promote Sleep
Montgomery, Paul, et al. "Fatty acids and sleep in UK children: subjective and pilot objective sleep results from the DOLAB study–arandomized controlled trial." Journal of sleep research 23.4 (2014):364-388.

Improve children's learning ability
Dalton, Annalien, et al. "Randomised control trial in school children showed improvement in cognitive function after consuming a bread spread, containing fish flour from a marine source." Prostaglandins, leukotrienes and essential fatty acids 80.2-3(2009): 143-149.

Prevent Depression
Nemets, Hanah, et al. "Omega-3 treatment of childhood depression: a controlled, double-blind pilot study." American Journal of Psychiatry 163.6 (2006): 1098-1100.

Effective prevention and treatment of hyperlipidemia
McKenney, James M., and Domenic Sica. "Role of prescription omega‐3 fatty acids in the treatment of hypertriglyceridemia." Pharmacotherapy: The Journal of Human Pharmacology and Drug Therapy 27.5 (2007): 715-728.

Prevention of myocardial infarction and death
Von Schacky, Clemens. "A review of omega-3 ethyl esters for cardiovascular prevention and treatment of increased blood triglyceride levels." Vascular health and risk management 2.3 (2006): 251.

Improve rheumatoid arthritis
Lee, Young-Ho, Sang-Cheol Bae, and Gwan-Gyu Song. "Omega-3 polyunsaturated fatty acids and the treatment of rheumatoid arthritis: meta-analysis." Archives of medical research 43.5 (2012): 356-362.

Improve fatty liver
Di Minno, Matteo Nicola Dario, et al. "Omega-3 fatty acids for the treatment of non-alcoholic fatty liver disease." World journal of gastroenterology: WJG 18.41 (2012): 5839.

Treatment for computer vision syndrome and dry eye symptoms
Bhargava, Rahul, et al. "Oral omega-3 fatty acids treatment in computer vision syndrome related dry eye." Contact Lens and Anterior Eye 38.3 (2015): 206-210.

Prevention and treatment for Dementia
Cole, Greg M., Qiu-Lan Ma, and Sally A. Frautschy. "Omega-3 fatty acids and dementia." Prostaglandins, Leukotrienes and Essential fatty acids 81.2-3 (2009): 213-221.

Promote Anti-inflammatory and Prevent autoimmune diseases
Simopoulos, Artemis P. "Omega-3 fatty acids in inflammation and autoimmune diseases." Journal of the American College of nutrition 21.6 (2002): 495-505.

Helps reduce fat and lose weight
Simopoulos, Artemis P. "An increase in the omega-6/omega-3 fatty acid ratio increases the risk for obesity." Nutrients 8.3 (2016):128.

Enhance muscle endurance
Vaughan, Roger A., et al. "Conjugated linoleic acid or omega 3 fatty acids increase mitochondrial biosynthesis and metabolism in skeletal muscle cells." Lipids in health and disease 11.1 (2012): 142.


❓Frequent Asked Questions

Q: Why should we consume Omega 3 with garlic oil?

A: Garlic oil is a broad-spectrum antibacterial substance that has various pharmacological functions such as activating cells, promoting energy production, increasing antibacterial and antiviral capabilities, accelerating metabolism, as well as alleviating fatigue and multiple pharmacological functions. When Paired with Omega 3, it can enhance the health result.

 
Registered Number:
MAL15075021N

 
Main Ingredients:
Omega 3 Fish oil 800mg (Providing 400mg EPA & 200mg DHA)
Garlic Oil(Allium Sativum) 200mg


Indication:
Used as health supplement.


Product Features:


Approved by Drug Control Authority (DCA) of Malaysia.
Pharmaceutical grade (Health Supplement).
Each capsule contains 400 mg of active EPA and 200 mg of DHA.
From deep sea fish of the Arctic Ocean. Zero pollution guarantee.
Caught in wild, which is no risk of hormones or antibiotics compared with farmed fish.
Use garlic oil as a preservative and help remove the fishy smell.
Contains allicin, which makes fish oil twice as effective.
Tested on food safety, certified no heavy metal found.
No maltodextrin, no aspartame, no magnesium stearate.
Comply with GMP, ISO and HACCP standards.